I'm not normally super sentimental over things. I have boxes of mementos from my childhood–mostly things my mother saved for me that she thought I'd want when I got older, and I likely will when I want to show Monkey, but I don't ever get the urge to sort through the boxes to wander down Memory Lane.
So when this prompt came up, I immediately went, "Huh… I have no idea what to post about."
And then I forgot about the post, and it went live with nothing on it because I'm a dork like that. But it also gave me time to think about things. And I actually came up with stuff! Go me!
I know a lot of people used their Cricket and teddy Ruxbin dolls (both of which Twin and I had) to play tapes of Ozzy and stuff when they were older, and it was hilarious (okay, it was) but the reason I remember it best is because I got my Cricket doll for Christmas in 1986 when he was stuck in Texas Children's Hospital for a year battling Burkitt's Lymphoma. We walked down to the toy room to play, and when we got back, "Santa" had arrived. Twin also got this giant stuffed purple monster with gold horns that reminds me a lot of Ludo from Labyrinth, but for the life of me, I can't remember what it's really called or find a picture of it. Sadface.
This probably isn't the same toy, since it was the 80s when we had it and Googling "1980s Optimus Prime toy" doesn't actually bring up anything from the 80s. But it was about as tall as we were (we were like 5 or so, so we were shorties) and we loved the hell out of that thing. It transformed and everything. I'm pretty sure we broke it pretty quick, cause we were destructive little shits, but that's what happens when you give kids toys with moving parts.
Our uncle got us one of those monkey dolls that suck their thumbs when he was stationed in Germany. I'm sure it has a name, though I don't know what it is. I carried that thing with me EVERYWHERE. It was the first doll I actually cared about.
I had a twin brother, so boy toys were my thing. My mom tried SO HARD to get me into Barbie dolls, but I didn't want anything to do with that mess. Gimme GI Joe and ThunderCats any day. And we totally had these action figures, btw.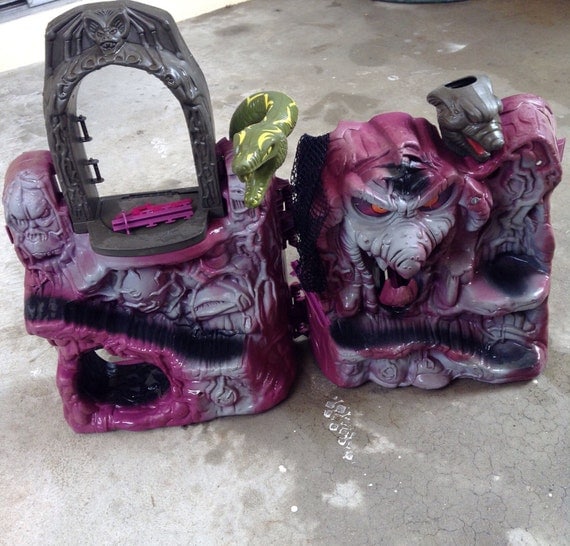 Castle Grayskull. We spent HOURS rescuing dumbass princesses who couldn't get their shit together from Skeletor and whatever Bad Guy of the Month we came up with. And for some reason, Twin always wanted to be a giant cat. *shrugs* Guess that's why he's the cat person and I have dogs. LOL
Check out the other bloggers Nostalgic Notes by clicking the links below:
Deelylah || Bronwyn || Gwen || Kellie